Arte público y memoria. Sistemas de significado
Palabras clave:
Arte público, monumento, memoria, espacio público, re-significación
Resumen
La re-significación de espacios de memoria es un tema de análisis académico desarrollado por la historiografía, el arte, la arquitectura, el patrimonio, la sociología y las ciencias políticas entre otras disciplinas. El análisis que proponemos parte de una mirada interdisciplinar, aunque interesada de modo específico en los lenguajes del arte y los sistemas de significado en el espacio público. Abordamos la problemática en dos partes: la primera con el desarrollo de cuatro perspectivas conceptuales que nos ayudan a determinar los principales conceptos sobre los que, en un segundo momento, aplicar un modelo experimental en forma de proyecto de intervención.
Descargas
Los datos de descargas todavía no están disponibles.
Citas
Agamben, Giorgio, Signatura rerum. Sobre el método, Barcelona, Anagrama, 2010.

Bergeijk, Herman van, «The März-Monument of Gropius and the concept of Folding», en Herman van Bergeijk y Klaus-Jürgen Winkler, Das Märzgefallenen-Denkmal, Weimar, Bauhaus-Universität, 2004.

Bohigas, Oriol, Reconstrucció de Barcelona, Barcelona, Edicions 62, 1985.

Borja, Jordi, y Zaida Muxí, L'espai públic: ciutat i ciutadania, Barcelona, Diputació de Barcelona, 2001.

Brandâo, Pedro, «Ética e profissoés no design urbano. Convicçâo, responsabilidade e interdisciplinaridade. Traços da identidad profissional no desenho da cidade», tesis doctoral dirigida por el Dr. Antonio Remesar Belloch, Departamento de Escultura, Facultad de Bellas Artes, Universidad de Barcelona, 2005.

Brandão, Anna, y Pedro Brandão (coords.), Common places. Guide for the assessment and interpretation of public space, Lisboa, IST-ID, Associação do Instituto Superior Técnico para a Investigação e Desenvolvimento, 2018 (E-book: http://psss.tecnico.ulisboa.pt/en/psss-method/).

Curtis, Penelope, Sculpture 1900-1945, Oxford-New York, Oxford University Press, 1999, cap. II.

Debray, Regis, «Trace, Forme, Message», Les Cahiers de médialogie, 7, 1999, pp. 27-44.

Dolff-Bonekämper, Gabi, «Le Forum de la Culture à Berlin, Monument d'histoire contemporaine », en Maria Gravari-Barbas y Sylvie Guichard-Anguis (eds.), Regards croisés sur le patrimoine dans le monde à l'aube du xxie siècle, París, Presses Universitaires Paris-Sorbonne, 2003, pp. 277-285.

Eco, Umberto, Obra abierta, Barcelona, Planeta-Agostini, 1984.

Fabre, Jaume, y Josep M. Huertas, Carrers de Barcelona, Barcelona, Edhasa, 1982.

Hansen, Oskar, Towards Open Form, EU, Fundacja Galerii Foksal, 2005.

Jameson, Frederic, Postmodernismo o la lógica cultural del capitalismo tardío, Barcelona, Paidós, 1991.

Lecea, Ignasi de, «Esculturas y espacio público en la ciudad de Barcelona», en Ignasi de Lecea «In memoriam» on the waterfront, nr 8 april, 2006, http://www.ub.edu/escult/Water/index.htm [consultado en febrero de 2009].

Lecea, Ignasi de, Carme Grandas y Antoni Remesar, Art públic de Barcelona, Barcelona, Ajuntament de Barcelona/Ámbit, 2009. www.bcn.cat/artpublic.

Lefebvre, Henry, Le droit à la ville, París, Éditions Anthropos, 1972.

Lévi-Strauss, Claude, Introduction to the work of Marcel Mauss, London, Routledge and Kegan Paul, 1987.

Maderuelo, Javier, El espacio raptado. Interferencias entre arquitectura y escultura, Madrid, Mondadori, 1990.

Maderuelo, Javier, La pérdida del pedestal, Madrid, Círculo de Bellas Artes, 1994.

Mumford, Lewis, La ciudad en la historia. Sus orígenes, transformaciones y perspectivas, Buenos Aires, Ed. Infinito, 1966.

Nomenclàtor de Catalunya de carrers amb nom de dona, Institut Català de la Dona/Institut Cartogràfic i Geològic de Catalunya, 2014, http://dones.gencat.cat/ca/ambits/sensibilitzacio/nomenclator_carrers_dones [consultado en marzo de 2020].

Parella, Miquel, «Els noms de carrers i places de Catalunya», Institut Cartogràfic i Geològic de Catalunya, 2008, http://www.icgc.cat/es/content/download/47998/330133/version/1/file/Els%20noms%20de%20carrers%20i%20places%20de%20Catalunya.pdf [consultado en mayo de 2019].

Pöete, Marcel, Introducción al urbanismo. Evolución de las ciudades. Lecciones de antigüedad, Oviedo, KRK Ediciones, 2015 [1929].

Remesar, Antoni, «Arte público. Retos y oportunidades (I). La emergencia de nuevos lenguajes», On the W@terfront, 41, 1, 2016, pp. 7-41.

Ricart, Núria (ed.), Public Space and Memory, Barcelona, Publicacions Universitat de Barcelona, 2016.

Ricart, Núria, «Monumento», en Ricard Vinyes (ed.), Diccionario de la memoria colectiva, Barcelona, Gedisa, 2018, pp. 317-320.

Ricart, Núria, y Antoni Remesar, «Reflexiones sobre el espacio público/Thoughts on public space», On the w@terfront, 25, 2013, pp. 5-35, https://raco.cat/index.php/Waterfront/article/view/263776 [consultado el 14/10/2020].

Valera, Sergi, El significado social del espacio. Estudio de la identidad social y los aspectos simbólicos del espacio urbano desde la Psicología Ambiental, libro académico no publicado, 1993, www.ub.edu/escult/valera/valera.pdf [consultado en noviembre de 2018].

Vidal, Tomeu et al., «Toponimia y espacio público: un análisis de caso», en José Romay Martínez y Ricardo García Mira (eds.), Psicología social y problemas sociales. Vol. 5. Psicología ambiental, comunitaria y de la educación, Barcelona, Biblioteca nueva, 2005, pp. 81-86.

Young, James E., At Memory's Edge. After-Images of the Holocaust in Contemporary Art and Architecture, New Haven and London, Yale University Press, 2000.

Zambrano, María, El exilio como patria, Barcelona, Anthropos, 2014.

Žižek, Slavoj, Sobre la violencia. Seis reflexiones marginales, Barcelona, Austral, 2013.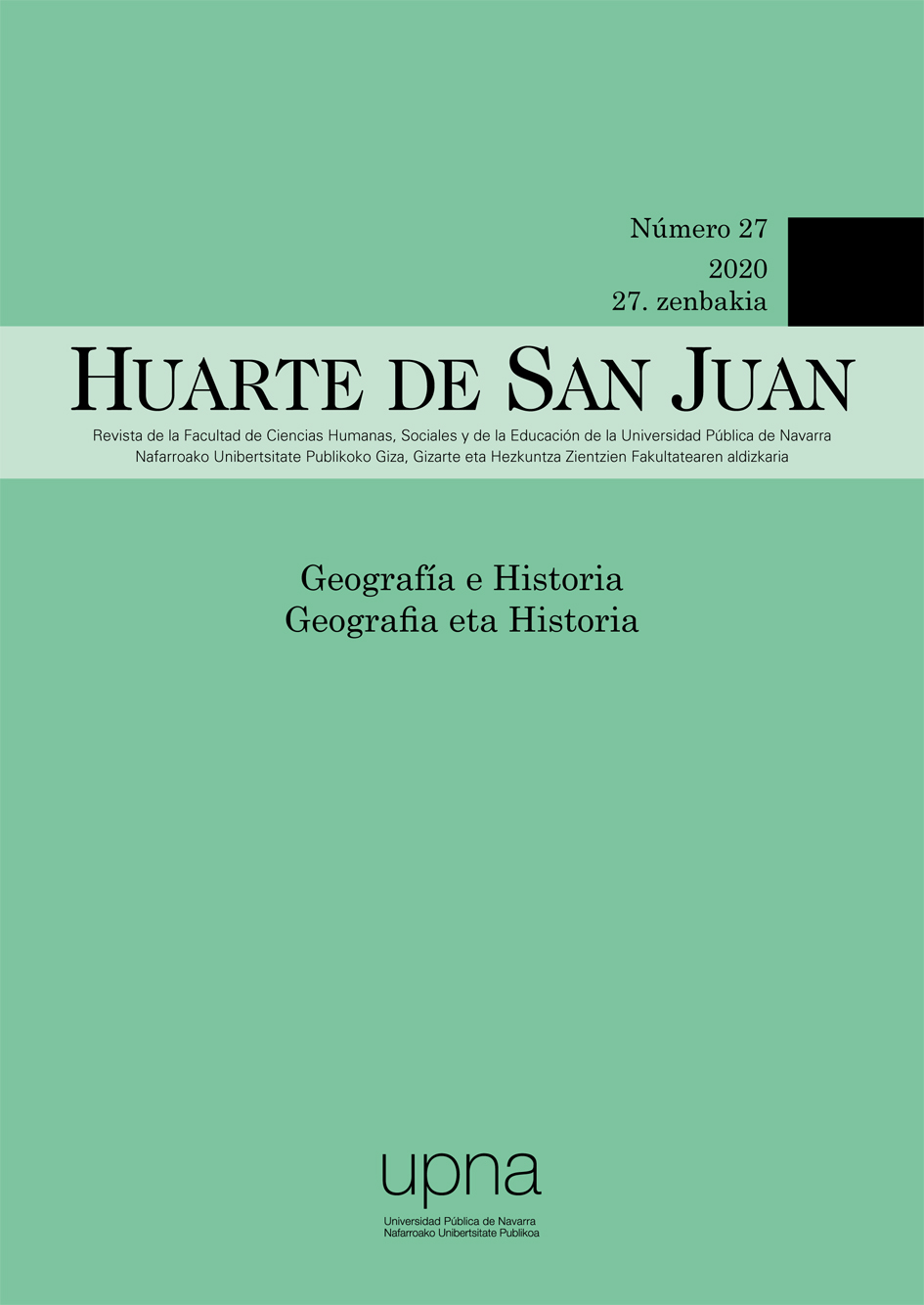 Descargas
Cómo citar
[1]
Ricart Ulldemolins, N. y Guixé Coromines, J. 2020. Arte público y memoria. Sistemas de significado. Huarte de San Juan. Geografía e Historia. 27 (nov. 2020), 21–46. DOI:https://doi.org/10.48035/rhsj-gh.27.2.
Sección
Dosier: Los lugares de la memoria (coord. Juan Carlos García Funes)
Licencia
La información referente al sistema de autoarchivo y política de derechos de explotación establecido por esta revista puede consultarse en DULCINEA.